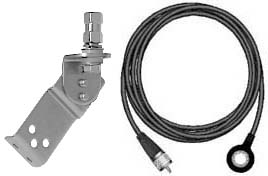 Model MK-274R
MSRP* $35.99

*MSRP (Manufactures Suggested Retail Price) in U.S. Dollars
This kit is similar to our MK-174 kit with the added feature of front to back angle correction. Many vehicles have a slope to the hood and trunk channel and the fixed mount just won't work. Not only will the antenna stud bracket swing a full 180 degrees, but all of the holes needed for installing the mount are concealed. You get a quality stainless steel mount and 18 ft (5.5m) of professional grade Fire-Flex coaxial cable (with our exclusive Fire-Ring connector) all in one package! And, if that isn't enough, you save money to boot ... almost 12% when compared to individual component purchases.
Note: As of early 2016, all PL-259's supplied with FireRing cables are non-booted versions.
The mount in this mini-kit is designed for hood, trunk and hatchback applications. The stainless steel mount fastens to the inside channel of the opening. There are no visible mounting holes on the vehicles exterior! Includes four #12 x 1/2" Philips panhead stainless steel sheet metal screws (use a #20, 0.161" drill for the screw pilot holes). For additional information on the mount, click here.
Photo collages for visual installation assistance:
For PL259 installation, Click Here
For FireRing antenna stud installation, Click here
Mini-kits give you the freedom to create your own personalized antenna kit. Any of our standard 3/8"-24 threaded antennas or accessories will screw directly into the antenna stud. Pick any color Firestik, Firestik II, Firefly, Road Pal, Scanner, 2-meter or Mach-10 antenna up to 4' (1.2m) to complete your installation. Each mini-kit contains a FREE microphone hanger. WHERE TO BUY?
Limited Warranty - Coax Cable 1 year, SS Mount 2 Years