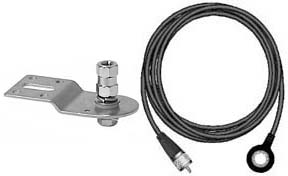 Model: MK-184R
MSRP* $31.99

*MSRP (Manufactures Suggested Retail Price) in U.S. Dollars
When Dodge redesigned their trucks in 1994, new ways for mounting antennas needed to be found. The mount in this kit is for antenna installations on the 1994 thru 2004 Dodge Ram and Dakota pick-ups (due to body changes made in 2005, this mount will not fit 2005 and newer vehicles). When the hood is open, the fender bolt near the firewall is removed (right or left side) and later reused to bolt the antenna bracket to the under-hood fender lip. All mounting hardware is invisible unless the hood is open. Includes four #12 x 1/2" Philips panhead stainless steel sheet metal screws (use a #20, 0.161" drill for the screw pilot holes). The bracket has a pre-determined bend and does not interfer with the closing of the hood. The bracket is 2" (51mm) wide by 4.1" (104mm) long. See all bracket dimensions by clicking here. You get a quality stainless steel mount and 18 ft (5.5m) of professional grade Fire-Flex coaxial cable (with our exclusive Fire-Ring connector) all in one package! And, if that isn't enough, you save money by getting it all in a kit .. about 14%! For specific information on the mount, click here.
Note: As of early 2016, all PL-259's supplied with FireRing cables are non-booted versions.
Photo collages for visual installation assistance:
For PL259 installation, Click Here
For FireRing antenna stud installation, Click here
Mini-kits give you the freedom to create your own personalized antenna kit. Any of our standard 3/8"-24 threaded antennas or accessories will screw directly into the antenna stud. Pick any color Firestik, Firestik II, Firefly, Road Pal, Scanner, 2-meter or Mach-10 antenna up to 4' (1.2m) to complete your installation. Each mini-kit contains a FREE microphone hanger. WHERE TO BUY?
Limited Warranty - Coax Cable 1 year, SS Mount 2 Years